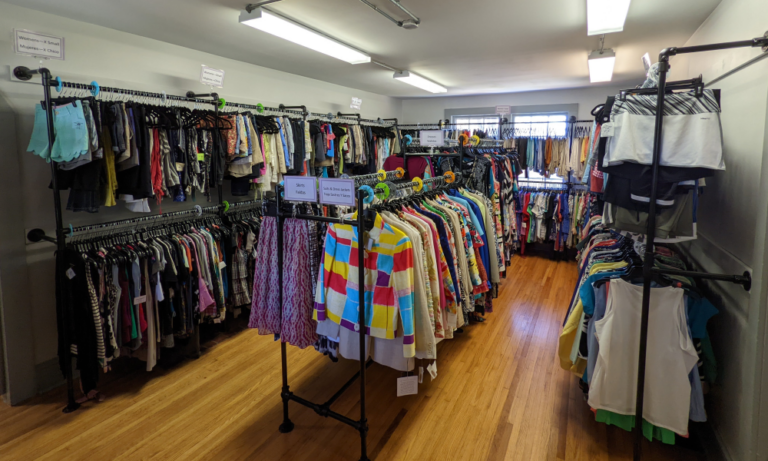 Donations from the community keeps our doors open
Lydia's Loft is the perfect recycling center for residents who wish to donate their unneeded clothing items. There are many in the area who are unable to afford to purchase what is needed for themselves and their families. Here at Lydia's, we put the two together and everyone benefits! We exist because of the kindness and generosity of so many individuals, groups, churches, local businesses and corporate organizations. We are grateful for the support and we appreciate you.
Due to limited display and storage space, the focus of Lydia's Loft is to provide our clients with clothing necessities.
We gratefully accept all clothing donations in good, wearable condition.

For items that we do not accept, we suggest the following charities:
Habitat for Humanity Restore 20414 N. Main St., Cornelius 704-992-7749
Habitat for Humanity Restore 121 Norman Station Blvd., Mooresville 980-447-9595
National Kidney Services Value Village 219 E. Plaza Dr., Mooresville 704-663-7242
Items may be delivered to Lydia's Loft during our hours of operation.
Please do not leave items outside, please place inside on our covered back porch.
Items may be placed in bags, boxes, totes, or left on hangers
All Men's Clothing
All Women's Clothing
All Children's Clothing 
Coats and Jackets
New Underwear
Sheets (please label with size)
Comforters and Blankets (please label with size)
Towels
Purses and Jewelry
Personal Care Items (toiletries, etc.) 
Men's & Women's Suits
Shoes
Formal Attire on behalf of The Prom Closet
Boxes of kitchen size garbage bags
Boxes of 30 gallon black garbage bags
Household items
Home decor
Furniture
Toys
Pillows
Duvet Covers
Mattress Pads
Kitchenware
Baby Furniture/nursery items
Car Seats
Strollers
Baby bottles/Feeding & Care items
Electronics
Donations Accepted during our hours of operation:
Monday 9am-12pm
Tuesday 9am-4pm
Wednesday 9am-12pm / 4pm-7pm
Thursday 9am-4pm
Friday CLOSED
Saturday 9am-12pm
Sunday CLOSED